Project Description
3G GSM to landline PSTN converter FWT 
3G GSM to landline PSTN converter FWT . GSM to PSTN converter, PSTN to GSM landline converter. Support 1 sim 2RJ11 ports. 1 port for telephone set, the other is for PSTN landline. When GSM is busy or off, call will forced to PSTN.Vice versa.
Model: P190
DOBRY 3G GSM to landline PSTN converter terminal FWT
DOBRY 3G GSM landline PSTN Terminal FWT operates using both SIM card wireless mobile signal and PSTN landline. It is with low cost routing to choose the cheap route automatically. The FWT terminal will call out from GSM or PSTN according to the presetting prefix numbers. For example, if users preset  prefix number 123 for PSTN. Then Dobry PSTN gateway P190 will call out from PSTN when users dial all prefix number with 123 AUTO.
Both GSM and PSTN support call in and call out. When you are in calls through GSM line,if another call arrives at PSTN,the caller will hear busy tone,and vice versa.
If PSTN line is off, it will dial out from GSM SIM card without distinguishing at high cost. If the SIM card is off or  no signal, call will dial out from PSTN line.
Because of the routing feature of DOBRY PSTN terminal, lots of alarm security companies use it in alarm panel and home/ industry alarm system. When 3G GSM line is off, PSTN landline can be a backup.
Currently, 3G and 2G two versions are available.  In 3G landline PSTN terminal network, we have six options.
Optional UMTS 3G working frequencies:
1, UMTS 900/2100Mhz+GSM900/1800Mhz.
2, UMTS 850/1900Mhz+GSM850/900/1800/1900Mhz.
3, UMTS 850/2100Mhz+GSM850/900/1800/1900Mhz.
4, UMTS 900/2100Mhz+GSM850/900/1800/1900Mhz.
5, UMTS 850/1900Mhz only.
6, UMTS 800/850/900/1900/2100Mhz+GSM850/900/1800/1900Mhz.
4G LTE version is optional also. Pls tell us your country and carrier name. 
You can check country 4G LTE bands here 
Features:
1) Strong signal with high gain antenna. clear voice.
2) caller ID display
3 )IMEI changeable(optional)
4) Backup lithium-ion battery(optional)
5) SIM Card supported(1.8V,3V)
6) Supports DTMF 2'nd dialing out
7 )Locking PIN / network (optional)
8) Hide subscriber ID (been sent out)
9) Connect Alarm systems for security use.
10) Provide reversal polarity signal for metering.
11) Compatible to most telephones, PBX and VoIP gateways.
12) Provide optimized circuit connecting the exchange device for Extension.
13) Simple to install and easy to maintain
14) Steady module and reliable design ensures good performance
15) Provide optimized circuit directly connecting the exchange device for extensions.
16) Suitable for wide voltage range and low power consumption.
17) Suitable for all kinds of weather and environment.
18) Two RJ-11 ports (FXO for PSTN line and FXS port for common telephone)
19) Auto-select economic route(Low-cost routing LCR function)
20) When GSM is unavailable,calls will be forced to dial out from PSTN landline port.
21) When not connecting to PSTN line,GSM will provide the forced dial-out function.
22) Routing between PSTN and GSM
Users can program the numbers they need to dial through GSM. GSM Gateway will choose the proper path (GSM or PSTN) to make the phone call – This is ideal when calling work colleagues and can be used for further cost savings when calling mobile phones on other networks depending upon the mobile phone tariff.
23) ACR Dialler (Automatic Call Routing)
In addition to GSM/PSTN router, the Follow Me GSM Gateway also has all features of an ACR dialer providing users with the ability to use alternative telephone companies and calling cards for cheaper PSTN calls.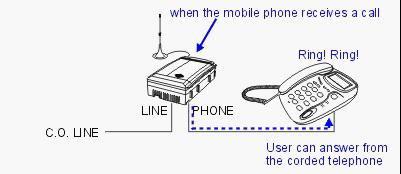 24) Answering a GSM Phone Call by Normal Telepohone.
When the handset receives a call, the normal telephone will ring. User can then pick up the handset
and answer the call.
25) Use GSM as a PSTN Line.
Under some conditions, the PSTN line is not available. Users can still use a normal telephone or PBX through the GSM network.
1) Air interface standard: GSM850/1900Mhz,900/1,800Mhz phase 2+ full band
2) Frequency ranges:
A) GSM 850                             GSM 1900:
I) Transmission: 869.2 ~ 893.8MHz      I) Transmission: 1, 930 ~ 1, 990MHz
Ii) Reception: 824.2 ~ 848.2MHz        Ii) Reception: 1, 850 ~ 1, 910MHz
B) GSM 900:                            GSM 1800:
I) Transmission: 890 ~ 915MHz          I) Transmission: 1, 710 ~ 1, 785MHz
Ii) Reception: 935 ~ 960MHz            Ii) Reception: 1, 805 ~ 1, 880MHz
C) UMTS 850                    UMTS 900
I) Transmission:824 ~ 849MHz         I) Transmission: 880~ 915MHz
Ii) Reception: 869 ~ 894MHz            Ii) Reception: 925~ 960MHz
D)  UMTS1900                  UMTS 2100
I) Transmission: 1850~1910MHz        I) Transmission: 1920~ 1980MHz
Ii) Reception: 1930~1990MHz           Ii) Reception: 2110~ 2170MHz
3) Channel space: 200kHz
4) Max power: 0.25W / 0.5W
5) Consumption:
A) Immobility: <25mAh
B) Transmission: <400mAh
6) Input: AC100 – 230V, 50 / 60Hz
7) Output: 5V 2A
8) Sensitivity: -105dB
9) AC power: DC 10V – 20V
10) Dial tone frequency: 450MHz (standard)
11) Connector of power: US,EU, UK,AU types
12) User line, bell signal: In line with GB/T15279
13) Switching type / transforming type AC adapter (optional)
14) Antenna amplifying: 3.5dB (omni-direction), 12dB (certain direction/chosen direction)
15) Connection mode: RJ-11 phone socket
16) Antenna connection: SMA antenna connection